THIS METHOD WORKED FOR ME IN SEPTEMBER 2020. IT MAY DEFINITELY WORK FOR YOU.
You're here because you've received the dreaded "Your account has been disabled for violating our terms, Learn how you may restore your account" message.
These are the steps I took to get my account back. To be blunt, if this does not work for you, please do not message me asking for help. I don't have a contact at Instagram to put you in touch with and I will not open a case on your behalf. This process worked in September 2020.
I was able to successfully login my Insta Ac. Instagram Team reactivated My account after 48 hours. @fokatkamaal
Please take a minute to tell Instagram to change their process for deactivating/reactivating accounts. Click here to give feedback.
I had to only wait for a few minutes before a representative joined the chat. I told the rep that I believe my Instagram account was deactivated by mistake. He asked for screenshots of the error messages I was receiving.
Nate, the support representative, opened a case with Facebook's Policy team for review and consideration. I opened the case at 7:30 am the day after my Instagram account was deactivated after the appeal process failed. It was reinstated by 1:25 pm.
A bunch of my Instagram friends started messaging me on my other account saying my account was back! I go to my profile and sure enough, there it was! Now for the real test… logging in. I switched profiles, entered my credentials and Boom! I was in. Happy tears! 

From doing my research, I was lucky. This doesn't happen often. Just in case it does again, make sure you subscribe to my email list below!
Shortly after it was reactivated, I heard back from Nate. He said that my ac was accidentally disabled due to "human error'. No other information was provided. I replied back thanking Nate for helping me and asked what is the best way to get in touch with support for issues like this in the future. I also asked how can i give feedback to get the process improved cause this is happening to a lot of people.


Click here to get in touch with Facebook support.
Click here to give feedback on the deactivating/reactivating process. The more people that give feedback, the more likely it is that they will change their process.
This is what worked for me, but there were a TON of other things I was trying. When your account is deactivated you want to try everything you can to get it back.
Other avenues to try
1. Appeal with Instagram
Click the Learn More Instagram prompt within the application to appeal the decision. You'll be asked to provide business records and a picture of yourself holding a sheet of paper with a code, your name, and Instagram account username. Instagram will review your account and get back to you.

you can also mail to Instagram 'support@instagram.com' you can mail here.
Subject: My Instagram Account has been Disabled by Mistake
Compose: Hello Team my Instagram account has been disabled by your side, i have not breaked any policy of Instagram not even commented or publish bad posts. Then also my account has been disabled, I have lots of old memories in my Ac please look up on this matter and help me I'm really very upset with this incident.
i Hope i will get positive response and help by your side.
Thanks&Regards Your Name.
2. Rally your followers
Gather your followers/community and get them to tag @instagram and @instagrambusiness. The plan here is to get as much attention on your account as possible so that someone will take a look at your issue.I created the graphic below and asked my followers to repost, comment, and direct message to bring attention to the issue.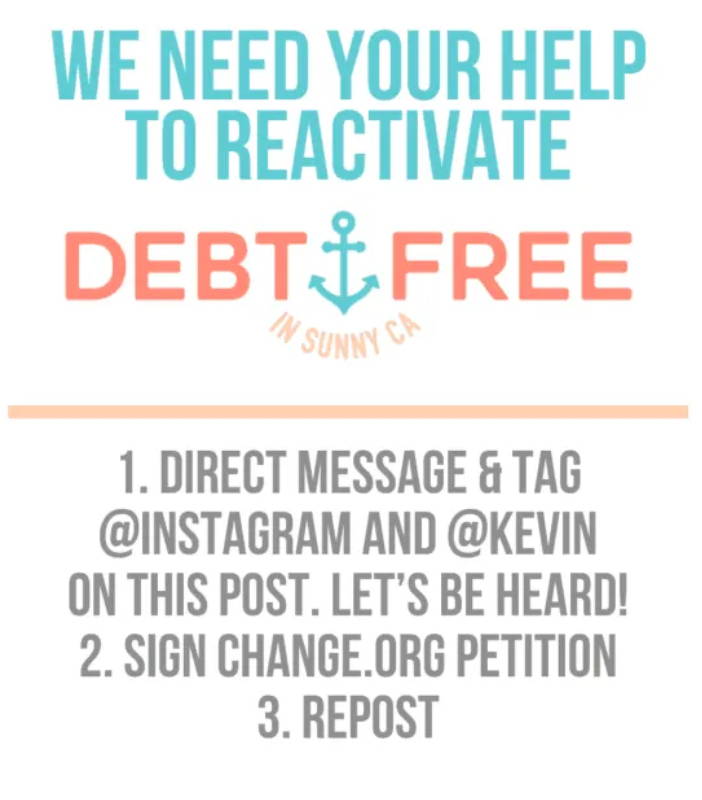 One of my friends, started a change.org petition for my followers to sign. It generated 1,675 signatures before my Instagram account was reactivated.
I want to give a quick shout out to the #debtfreecommunity. You were all so supportive and rallied to get my account reactivated. It means the world to me that so many people cared and wanted to help. I am forever grateful.

3. Reach out to Facebook or Instagram employees
This may seem aggressive, but the process to get a hold of an actual person at Instagram/Facebook is extremely difficult. I only found out how to do it after posting in a bunch of Facebook groups I'm a part of.
Several of my followers were either employees, knew how to get in touch with one, or knew someone that this happened to and put me in touch with them. One of the employees opened a case for me. I heard back from them the following day after my account had been reactivated. Here's what the email said."We just investigated your report and it looks like this is no longer an issue. If it comes up again, just reply to this email and let us know what's going on and we'll do our best to help. We'd also recommend checking out our Help Center for more information and answers to common questions: http://help.instagram.com"
If the above is not an option for you, check out this great post that shows you how to find employees that work for the company. The article is one that I referred to when trying to get my account reactivated. Scroll down to find the section on how to find employees.
4. Read this article for more ideas
I exhausted all options when trying to get my account back. Dani's article on Medium was one of the most helpful articles I came across. It provides 9 different steps you can take to get your Instagram account back.
Please take a minute to give Instagram/Facebook feedback so the process for deactivating/reactivating accounts can be changed.
Having your Instagram account deactivated can be a scary experience. You're left wondering if you will get your memories and connections back. This was an especially emotional process for me as my dog, Mac, had just passed away and there were pictures I hadn't made copies of yet.
I hope this blog post is truly helpful for anyone going through the same thing. If you have other methods that worked for you, drop them in the comments down below. Make sure to subscribe to my email list and give Facebook feedback on changing the process.